To all the Mid-O Series Fans
28. 10. 2022
We Analog Mafia hope you are all doing safe, well, and healthy.
Like many of you probably are, we have been struggling to somehow debug and elevate the RC-808 software app to the next level. However, we are very small team of aged engineers, and now our ace programmer is lying down sick in bed for months.
Because of this prolonged situation, we decided to stop downloading the RC-808 for now, as of October 31st, 2022 in Japan Standard Time.
The system that we confirmed so far are still Windows 10 and macOS Big Sur.
The DAW that we confirmed the RC-808 app to operate are Cubase and Logic ProX.
It would be great if you could note that we have no other choice but to say "confirmed" because we cannot officially support any other DAW or any other software.
The days were fabulous and marvelous as we developed, launched, and saw you talking about the RC-808 software. Our deepest gratitude is to our users. Words are not enough to express our feelings.
Then again, we are not giving up yet. We are hoping to come back in the future with a different but still is an analog manner software synthesizer with advanced "vanguard" concept. We are hoping to create this new app from scratch, and are hoping it to eventually engulf the RC-808. Like RC-808, this will be a conceptual model to carry on our Analytical Synthesis and COSM paradigms.
Again, thank you so much for all of your great powerful helps on the RC-808. Take care of yourselves, and see you again. So long.
Vector Criterion from Analog Mafia
---
RC-808 "Drum Rap" Contest
↓↓↓ Updated on 27.Oct, 2021, check it out!! ↓↓↓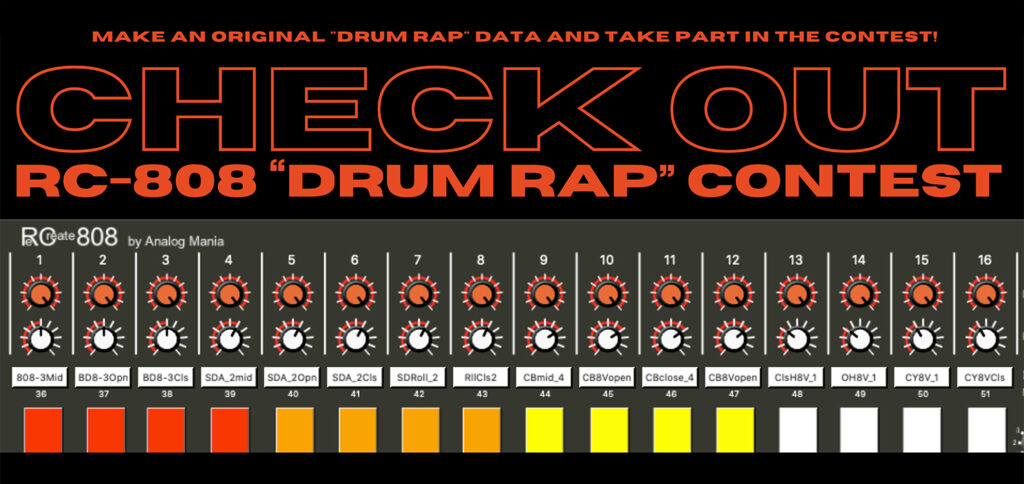 Japanese page is here.
---
About RC-808
All demos made by DJ Hisashi Saito – https://www.hisacid.com
Our new RC-808 "Re-Create the 808" does authentic vintage TR-808 emulation as well as vanguard drum synthesizer sounds.
A drum synthesizer? Yes, it was the original TR-808 / 909 / 606 / TB-303 engineering team's dream to create, not a drum machine, but a drum synth. Each of its 16 instruments to have a synthesizing power equivalent of that of a System-700 modular synth – all that magnitude just for one single instrument. Multiply that by 16, and you'll get the idea about the scale of the original intention by the engineers.
The new demo songs created by DJ Hisashi Saito show its synth capability coupled with new expressions made possible with its onboard piano-roll type sequencer controlling the gate time.
Please note that no samples, nor effect processing are employed. Just analog manner synthesis, but coupled with nifty tricks.
The RC-808 Re-Create the 808 is a conceptual model synth that makes this large scale dream come true. More episodes about the background of the Mid-O Series, and the RC-808 details available on this website. Check them out!
---
What's New!

10. 31. 2022 – RC-808 downloading service closed. See you again with our even newer next conceptual model.

01. 14. 2022 – RC-808 Drum Rap Works exhibited in the online gallery
11. 30. 2021 – RC-808 Drum Rap Contest concluded
09. 02. 2021 – FAQ page
08. 30. 2021 – You can Download RC-808 drum kit file from here
08. 23. 2021 – Comment page of H. Saito
08. 18. 2021 – Reference songs page
08. 08. 2021 – RC-808 "Drum Rap" Contest
07. 31. 2021 – Follow us on the official Instagram!
07. 23. 2021 – Updated version RC-808 available! New edition manuals and documents too!
08. 08. 2020 – The Mid-O Day, 40th birthday of TR-808. The VST/AU plug-in version now available!
06. 06. 2020 – The Mid-O Day. This new website URL https://rc-808.com/ GRAND OPENING! RC-808 Official Group on Facebook GRAND OPENING too!
06. 05. 2020 – Website migrating to a new server.
01. 14. 2020 – 808 Guestbook opened.
10. 01. 2019 – Mac version RC-808 released.
08. 22. 2019 – Tadao Kikumoto with RC-808 on Streaming Channel "Dommune".
08. 20. 2019 – 808 Media page added. We appreciate all of your kind support to us!
08. 08. 2019 – 21:00 JST / UTC +0900 – The Mid-O Day. The first generation website launched when the entire planet Earth was supposedly in 808 Day.