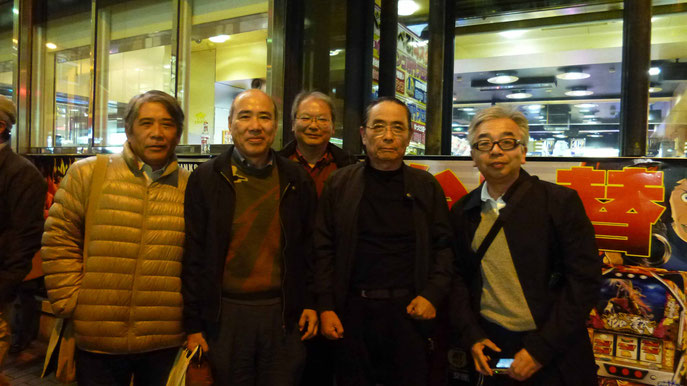 We, the Analog Mafia lead by Tadao Kikumoto, is the original R&D staffs who developed the Mid-O Series from Roland Corporation. We would like to express our full gratitude and respect to all the people who were in Roland, and supported us at that time.
In above photo, from left to right, we the Analog Mafia are: 
Jun-ichi Kadoya: Roland 1977 – 1983, Mid-O Series software / hardware engineer, still is a programmer
Hisanori Matsuoka: Roland 1979 – 1995, Mid-O Series software / hardware engineer, still is an engineer
Kiyokazu Fujiwara: Roland 1978 – 1981, Mid-O Series sound source, now a general manager of a software maker
Tadao Kikumoto: Roland 1977 – 2009, Mid-O and V-Series R&D, now Silent Street Music concept maker and promotion
Yoshiro O-e: Roland 1978 – 1988, System-700 and Mid-O Series R&D, now operating a chemical company
Also are:
Hiro Nakamura: Roland 1975 – 2000, CR-68, CR-78, TR-808 sound sources, engineer
Atsushi Hoshiai: Roland 1982 – present, sampling for the TR-909, engineer
We all are still analog manias 😉
Because we are independent from Roland Corporation, they nor we can not answer to any kind of inquiries about us and our deliverables including this website. Thank you so much for your understanding and cooperation for everything.
---
Tadao Kikumoto is currently also working busy on another equally innovative project, called SSM – Silent Street Music. It is multi-channel concurrent streaming and listening technology that allows zapping through multiple music or lecture sources instantly. Join us on its exclusive introduction website (at the moment the website is only in Japanese language)
---
What's New!

06. 06. 2020 – The Mid-O Day. This new website URL https://rc-808.com/ GRAND OPENING!!!
RC-808 Official Group on Facebook GRAND OPENING too!!!

06. 05. 2020 – Website migrating to a new server.
01. 14. 2020 – 808 Guestbook opened.
10. 01. 2019 – Mac version RC-808 released
08. 22. 2019 – Tadao Kikumoto with RC-808 on Streaming Channel "Dommune".
08. 20. 2019 – 808 Media page added. We appreciate all of your kind support to us!
08. 08. 2019 – 21:00 JST / UTC +0900 – The Mid-O Day. The first generation website launched when the entire planet Earth was supposedly in 808 Day.